Purex Complete with Zout is a laundry detergent and pretreater, all in one! What makes Purex Complete with Zout so unique is that it combines three powerful stain-fighting enzymes that work together to target different types of stains. These triple fighting enzymes work hard to remove grass, chocolate, ketchup and more. Use Purex Complete with Zout just as you would for normal wash loads or pour and rub directly into fabric as a pretreat before washing to help remove tough stains.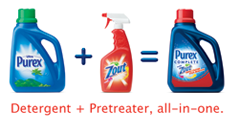 A great aspect of
Purex Complete with Zout
is that it's compatible with traditional and High Efficiency (HE) washers, something I know a lot of my readers are going to be wondering about (jealous of you HE owners!!!).
My official opinion: I was happy, as I usually am with Purex products, with the results of
Purex Complete with Zout
. My clothes had a fresh, clean scent. I was able to get a spaghetti sauce stain out of a light pink shirt of Princess's, and grass and dirt off the seat of Bubberbutt's shorts (I used it as a pre-treat for that one). I particularly appreciate that there is a Free and Clear option, as one of my kiddos' skin leans towards the sensitive side. What made all of this better? Knowing that Purex Complete with Zout is so much more affordable than comparible detergents! When you're washing for a family of 7, of a family of 2, those things matter!!!!
Guess what, you can get a FREE sample! Head to
FreeSamplePurex.com
to request your sample now!
That's not all, I'm having a GIVEAWAY

: Two (2) lucky readers will each win one (1) FREE product coupon for Purex Complete with Zout (up to a $7.50 value-that's a full-sized bottle)!! The winners will be selected
at random
from the comments you leave below ON THIS BLOG POSTING saying which household chore you hate doing the most! It will end on Sunday (4/17) at 11:30pm CST.
**If you don't have an ID to enter with, it's easy to get-the easiest way I know of is to sign up at
blogspot.com
. You can also sign up with

google.com

:)